Early Cubists
George Braque and Pablo Picasso started to experiment with collage with 1912, using it as a background surface.
Above: Braque's
Fruitdish and Glass
, papier colle
and charcoal on paper, 1912
Above: Picasso's
Bottle of Vieux Marc, Glass, Guitar and Newspaper,
1913
Juan Gris was influenced by their work and took the process further by rubbing a wooden table to show the grain.
Above: Gris' Breakfast, 1914
During the 20s and 30s only used collage to explore textural qualities.
Kurt Schwitters'
Merz 1921
Schwitters' Merz Building took shape between 1920 - 1936 - altered whole room with collage and lived in the space for several months.
During the Pop Art era of the 60s, Robert Rauschenberg used everyday imagery from newspapers and magasines, transferring them onto collage. Juxtaposed images for the viewers' own interpretation.
Rauschenberg's Retroactive I, 1964
Rauschenberg's untitled, 1954
Collage evolved with the digital age into photomontage, as artist increasingly used photoshop etc.
Hannah Hoch's
Cut with the Kitchen Knife through the Beer-Belly of the Weimar Republic
, 1919,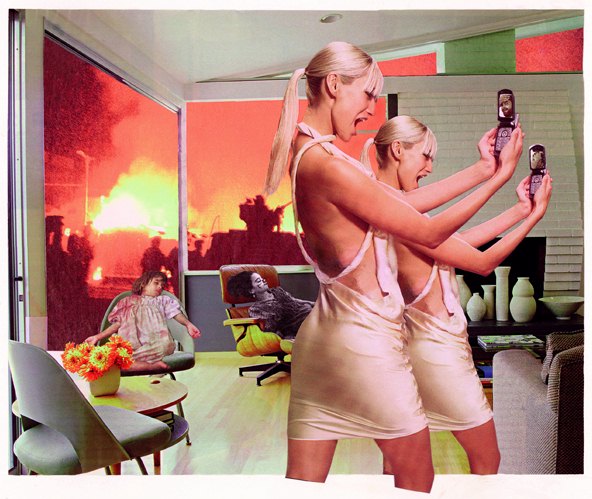 Martha Rosler's Photo-op, 2004
David Mach
Chris Ofili's No woman, no cry - in response to the murder of Stephen Laurence, portraying the tears of the victim's mother